Outsourcing an IT Help Desk: Everything You Need to Know
Posted on: August 29, 2022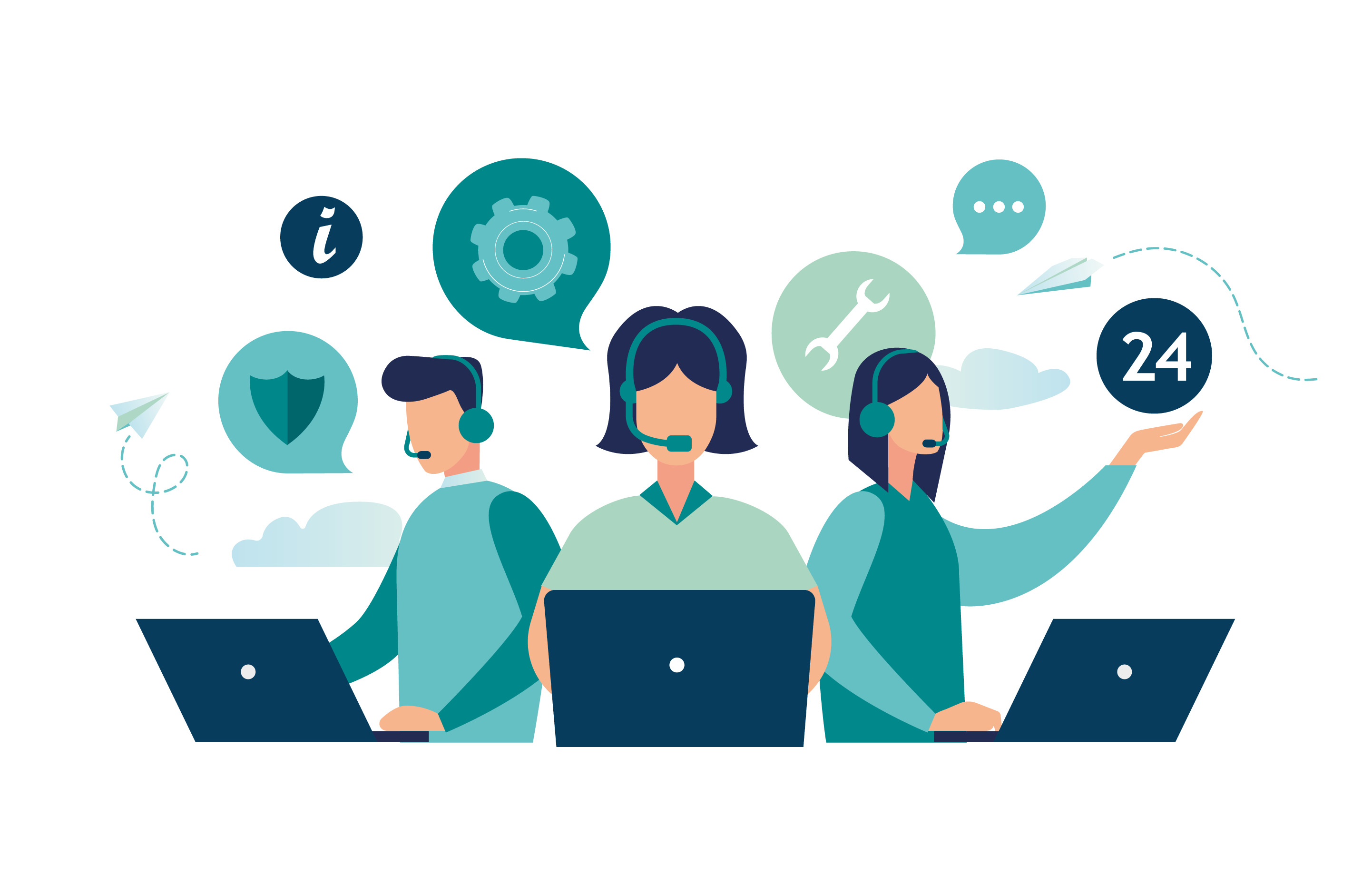 Although technology gives businesses an essential dose of efficiency, organizations still need to offer support to their users. Even the most well-designed technology will have problems, and users will expect expert help when they need it the most.
Information technology (IT) is a critical business function that helps users make the most of a business's solutions. Unfortunately, high user demand can strain internal IT resources, with the submission of more tickets than IT can manage. This leads to longer wait times, increased user frustration, and employee burnout.
Support is a must, but how can organizations manage the burden of offering always-on support?
IT help desk outsourcing fulfills this need for thousands of enterprises across the globe. In fact, by 2024, the help desk outsourcing industry will be worth $11 billion worldwide.
Although enterprises are generally large and well-funded, internal resources are already stretched to their limits. To take the business to the next level, it's essential to outsource menial or lower-value tasks wherever possible. By outsourcing help desk needs, enterprises can streamline their operations without compromising user needs. This leads to improved operational efficiency, better customer service, and even decreased costs.
Learn how outsourced help desk works, the surprising benefits of outsourcing, and how enterprises can integrate outsourced help desk into their operations.
Table of Content
What Does an Outsourced Help Desk Offer?
Why Outsource Your Help Desk
The Challenges of Outsourcing Help Desk in 2022
Essential Steps for Outsourcing a Help Desk
Outsourcing for Efficiency
What Does an Outsourced Help Desk Offer?
An outsourced IT help desk is a type of managed IT service. With this service, an experienced third-party managed services provider (MSP) manages all help desk needs for the enterprise. MSPs offer technical support to users, whether that's the organization's customers, vendors, or internal team. Help desk largely entails break/fix or incident management, responding to issues in a timely manner so organizations can continue moving forward.
Every managed service provider is different, but an outsourced help desk often includes:
Break/fix
Security
Device management
Real-time support
Tech support
Troubleshooting
Maintenance updates
Login credentials
Installing software or new features
Organizations outsourcing their help desk services will commonly ask vendors to provide white-label support. Users will appear to chat directly with the organization, but, in reality, they're speaking to the third-party MSP on behalf of the organization.
Service Desk Versus Help Desk
"Service desk" and "help desk" are often used interchangeably, but they're two different levels of service.
With the help desk, enterprises receive an issue-by-issue resolution. The help desk primarily serves organizations with troubleshooting and solutions for common issues, such as break/fix.
The service desk focuses on ongoing maintenance. A service desk team might monitor an organization's network and provide reports in addition to assisting its users. While a service desk can be useful, this higher level of service usually costs more.
An organization's processes, size, and technology setup will impact whether a service desk or help desk will best serve its needs. For organizations that need to streamline costs while giving users the support they need, a help desk is a robust yet affordable solution.
Why Outsource Your Help Desk
Although there are benefits to keeping help desk tasks internal, outsourcing is rapidly becoming a popular option for enterprises. In fact, 66% of businesses with 50 or more employees outsource at least one department in their organization. Organizations that switch to outsourced help desks often enjoy these seven benefits.
The effects of the pandemic on the workplace have led to organizations and employees embracing the new normal. This means that remote work is still the standard moving forward. In fact, 25% of all professional jobs in North America will be remote by the end of 2023.
Since remote work causes an increase in tickets and service requests, it's challenging for businesses to accommodate this influx of tickets. It's never been more essential to invest in solutions that keep distributed teams productive.
But remote work makes it challenging for IT departments to deliver excellent service. With work-from-home still increasing, more organizations need to optimize their remote work processes, including remote monitoring and management. This includes creating a remote-first help desk experience for customers and employees.
By outsourcing help desk tasks, enterprises can give every remote worker the help they need on a near-immediate basis. Instead of allowing remote workers to go offline for several hours or even days, an outsourced help desk helps employees stay productive, no matter where they work.
2. Reduce Costs
Manual ticket management can cost $22 per incident but outsourcing service desk tickets can significantly reduce this cost at scale.
While pricing will vary depending on the help desk solution and the level of service, it's possible to improve operational costs with outsourcing.
It is often cheaper to outsource help desk tasks than hire internal resources. There's no need to:
Train a team
Pay for benefits
Buy equipment
Lease office space
Manage or retain employees
Thanks to predictable pricing, organizations can precisely calculate what they will spend on outsourcing. Since MSPs only charge for the resources used, there are no surprise costs.
Furthermore, investing in outsourced IT help desk services doesn't just deliver ROI in the form of reduced costs. While the financial ROI is the most straightforward one to measure, there are key benefits of outsourcing IT support that is realized in the form of scalability, productivity, and freeing up time and resources for key business activities.
Better help desk offerings keep employees productive. In fact, according to a HubSpot Annual State of Service Report, 91% of employees say that having a help desk improves their productivity.
With an external help desk, organizations can enjoy the employees' expertise and institutional knowledge; and apply it to high-value tasks. It also allows in-house IT professionals to grow the business by focusing on what matters, not spending time on lower-value troubleshooting or minor fixes.
Plus, depending on the help desk, organizations can tap into an on-demand team of experts in specialized areas. There's no need to train internal staff on the intricacies of the cloud, for example. Simply call the help desk, chat with an expert, and continue moving forward. It's the simplest way to maximize team productivity and the performance of your IT infrastructure.
4. Improve the UX
Businesses in the United States lose $4.7 trillion every year because of poor customer service. That's why so many organizations are outsourcing help desks to improve the user experience.
Users expect a lot from organizations. An outsourced help desk means organizations can meet the demands of users without overloading in-house IT teams. In turn, IT teams can enjoy more breathing room while customers get the near-immediate answers they expect.
5. Be More Competitive
Customer service is often the biggest differentiator between businesses, especially in saturated markets. By outsourcing their help desk, enterprises can gain a significant advantage over their competitors. 83% of customers are satisfied with help desk solutions—and 91% say they would buy from an organization that gave them a great experience.
Better service will retain more customers and justify asking for a higher price than the competition. In this way, an organization can stand out by offering faster, more competent service at scale, which a help desk provides.
6. Scale Without Issue
Most enterprises hire help desk vendors for a set service level every month. However, if the business experiences a sudden surge in demand, the outsourced help desk can scale its offerings to fit the increased demand.
As resource requirements change, the enterprise can adjust its Service Level Agreement (SLA) to accommodate the change — which is much more affordable than hiring and training in-house staff. This makes it possible to take on larger call volumes as needed to meet user needs.
By outsourcing, organizations have solutions on standby during anomalies or crisis. There's no need to panic or build internal systems: simply pay a one-time fee to have the help desk take care of everything.
If an organization wants to scale, an outsourced help desk can also help it avoid systemic problems. Because it's a proactive solution, the help desk will identify common issues with a product or a specific area of a business's website. It tracks performance information that the organization can then use to make better, more informed decisions about growth.
7. Save Time
Depending on the SLA, organizations can offer 24 / 7 / 365 support to customers almost immediately with an outsourced help desk, which means users get the help they expect faster. This reduces response time to customer tickets and saves time for internal IT teams so they can instead focus on meaningful tasks that move the needle.
The Challenges of Outsourcing Help Desk in 2022
Help desk outsourcing is a smart option for streamlining enterprise operations, but it does have its challenges, including:
Institutional knowledge: External vendors need time to familiarize themselves with your business. It can take time to educate outsourced experts on the intricacies of an organization's customers and products. This can lead to misunderstandings and an initially poor experience for customers. For this reason, outsourced providers must train and assess their performance regularly.
Labor shortages: The United States is currently experiencing

the biggest labor shortage since World War II

. Organizations struggle to hire from within, but finding the exact expertise they need from an outsourced provider can be challenging.
Security risks and breaches: By hiring a third-party MSP, an organization gives the provider access to sensitive information and internal systems. Enterprises can't control how a help desk provider uses their systems, so this can come with security concerns.
No solution is perfect, but these challenges illustrate the importance of careful planning and vendor vetting. This is why organizations must carefully plan their outsourcing process to ensure they work with the best provider for their needs.
Essential Steps for Outsourcing a Help Desk
Outsourcing an IT helpdesk comes with challenges that can be overcome with the correct approach. And it's well worth the effort because this essential change frees more enterprise resources. Even so, it's critical for organizations to choose the right MSP provider for their IT help desk operations.
Enterprises should follow six steps to outsource their help desk to a reliable provider:
Identify organizational needs and project scope
Pick a budget and preferred pricing structure
Submit a request for proposals (RFP)
Compare different help desk providers
Choose a vendor and agree on deliverables
Create a transition plan with the chosen vendor


The above steps can seem overwhelming as you start an outsourcing endeavor. So in an effort to aid your decision-making process, the Calance team pulled their years of experience across several projects to create the ultimate guide to setting up a successful outsourced IT help desk.

Outsourcing for Efficiency
Today, business is about going above and beyond for its users. But in a crowded market, customer service and IT expertise, especially that is offered 24 hours a day, 7 days a week, 365 days a year is quickly becoming the differentiator.
It's time to change the IT service model to focus on user needs. Help desk outsourcing is simpler and zeroing in on the right IT help desk outsourcing company can be more cost-effective than taking time and resources from an in-house IT team to offer the service.
Calance is a leading global IT services firm that delivers effective IT help desk solutions across organizations in healthcare, automotive, and other diverse industries.
See how Calance helps organizations become more streamlined and efficient through the power of always-on service.