Leave background DevOps to us so your app developers can focus on value-adding functionality
Posted on: March 23, 2021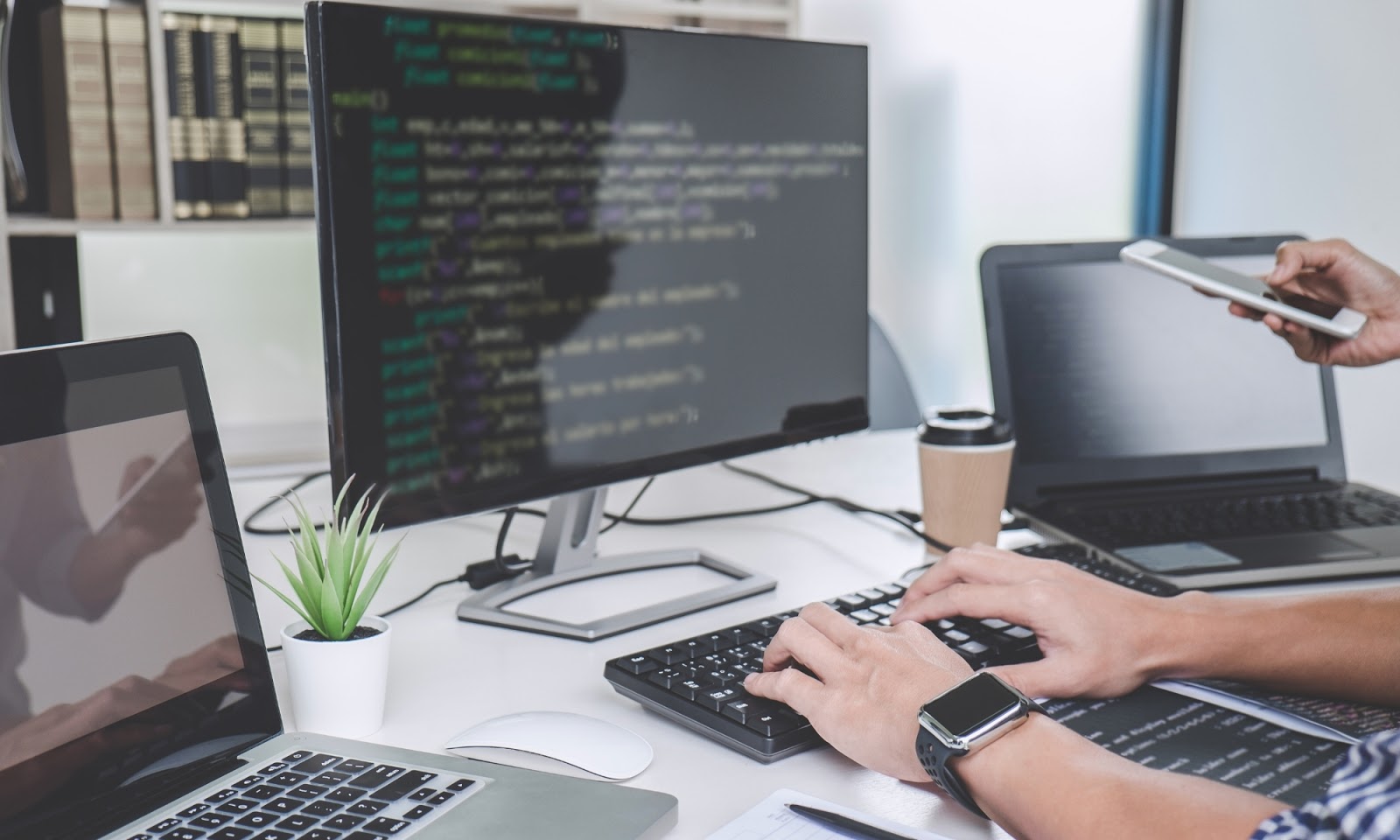 Today's technological landscape is one of lightning-fast innovation and constant development. Companies of all sizes and types are pushing to release new applications and products daily. Thanks to growing demand for increasingly agile software development across industries, cross-functional teams are being pushed more than ever to create new services, unveil exciting updates and design user-focused features for a tech-obsessed consumer base.
At the same time, the background infrastructure that products like these need is also growing and changing. You may have a great idea and a hotshot development team ready to produce the next killer enterprise application, but will that app have the best computational and operational infrastructure and components to optimize its capabilities?
Software upgrading has become essential, and organizations are now leveraging the functionalities of DevOps for agile software development, significantly reducing manual processes and decreasing coding errors. A set of practices and tools that combines software development and IT operations, DevOps aims to increase an organization's ability to deliver higher-quality applications and services faster than traditional software development processes.
The global DevOps market is expected to grow by more than 20% over the next five years and be worth $17 billion by 2026, according to a Global Markets Insight report. Due to rising industry competition and a rapid surge in demand, the report says, "the market is expected to undergo a dynamic transition as advancements in automated software development and zero-touch automation technologies are driving the demand for DevOps tools."
DevOps is not just the future of application software, it's already here. Companies that are slow to adopt these automated new solutions for rapid development and continuous deployment will be left behind, beaten to market by faster competition and ignored by customers for better alternatives. But it's easier said than done, and many organizations don't have the time, talent or expertise to integrate DevOps into their software development processes on their own.
Introducing Zero Touch DevOps++, a new service offering from Calance that leaves the boring, back-end upkeep to us and lets you focus on the things your team actually cares about.
Your team has too much on its plate
The demands placed on development teams and systems engineers are higher than ever before. New iterations of your products must be released endlessly, and they must be stable and secure.
Put simply, your engineers and developers have too much on their plate already. Not only are they expected to produce new features that will help your app stand out, but also they need to ensure that releases are highly stable with strong infrastructure behind them.
While security and stability are important, creative innovation is ultimately what makes your application stand out. Being the first in your space to solve a problem or add a unique feature that's likely to be in-demand is what separates the best digital products and really drives users and revenue.
However, your team can't do everything on its own. You might have great product-market fit and a bunch of creative technology wizards, but handling the crucial infrastructure, coding, ITSM and other foundational elements that maintain and enable the whole thing – development, integration, testing, monitoring, feedback, deployment, operations – is a herculean and lackluster endeavor.
That's where Calance comes in. We help you to focus on what truly matters to your business by taking care of the DevOps nuts and bolts.
What is your primary focus?
When your team members are building a new app or developing a cool feature for an existing product, what do you primarily think about?
Do you focus on developing a core set of principles for everyone to follow? Or system reliability engineering (SRE) to create a strong back-end infrastructure. Maybe concentrate on application performance monitoring (APM) to create a high-functioning piece of software. Perhaps your attention is on overall security for your digital product.
Whatever your focus, you'll still need to consider the other aspects of digital product development. You can't ignore data security or pass on optimizing load speeds. Instead, your team needs to cover all the bases that come along with digital product development.
You need an app that's reliable, high-performing and secure. On top of all that, you need to be able to add creative and innovative features that will help you stand out from the competition. How can you develop a digital product that checks every box on the list? By seeking help from experts.
Shift your perspective and embrace Zero Touch DevOps++
What if someone else handled the "boring" parts of software development? Wouldn't that allow your team to focus more on developing new features, implementing customer feedback, experimenting with new designs and doing the other "fun" parts you set out to do in the first place?
You need a strong infrastructure, but that doesn't mean that you have to develop it yourself. You need a sophisticated SRE approach, but that doesn't have to come from your core team. You need data management and security, but you don't have to rely on your in-house team to ensure it.
At Calance, we're launching a new service called Zero Touch DevOps++. Our goal is to empower you and your development team to focus on what really matters to your digital product while we handle all the nitty-gritty necessities that make it work. Outsource that stuff to us and let our skilled specialists keep it up and running so you don't have to touch – or even think about – DevOps.
This might not be the most radical idea you've ever heard, but it's one that will create a more efficient, cost-effective and successful product development process. Your development team won't have to worry about the tedious details involved in setting up a scalable infrastructure, so it can work on the next industry-disrupting feature of your digital product.
Benefits of outsourcing DevOps to Zero Touch pros
Calance brings together the critical aspects of DevOps and offers many key benefits that will help your company and its digital products thrive. Our overarching goal is to empower our clients to develop their apps and products without having to focus on every trivial but vital detail of infrastructure and security.
So, what can our team do for you? Here are just a few of the advantages to Zero Touch DevOps++ from Calance:
DevOps deployment
We'll automate the verification and release of new code. You'll be empowered to automate your build process, run test scripts and deploy new functionality much faster and with fewer errors. Doing so will greatly reduce iteration time and help you to launch new features as soon as they're ready.
System reliability engineering
We'll ensure that your software is scalable and reliable by proactively managing the underlying infrastructure, which includes the ongoing operations of the infrastructure that your apps run on and much more.
Application performance monitoring
We'll ensure that your apps operate as expected by actively managing and monitoring application performance at the micro component level. We'll pinpoint any poor performance elements in the application architecture and help you in correcting any issues.
Web app security
We'll protect your entire application by continuously seeking out new vulnerabilities that might appear with a new release or any other changes to your app environment. Your app will be as secure as possible at all times, avoiding costly and damaging data breaches and cyber-attacks.
Every member of our team is an experienced, adept and collaborative IT professional or developer that can handle any DevOps need you might have. You'll receive meticulous attention to every detail involved in your project from some of the most proficient experts in the industry.
See how we can work for you
Calance is a global IT services firm specializing in end-to-end solutions for development, managed service, security, SAP, project control integration and IT staffing. We would love to help your company expand its capabilities by freeing up your development team to focus on functionality that adds value to your users and grows the business.
So, let Calance worry about the background nuts and bolts. Contact us to learn more or get started today.