How to Overcome the Top 4 Challenges in IT Support Outsourcing
Posted on: June 21, 2022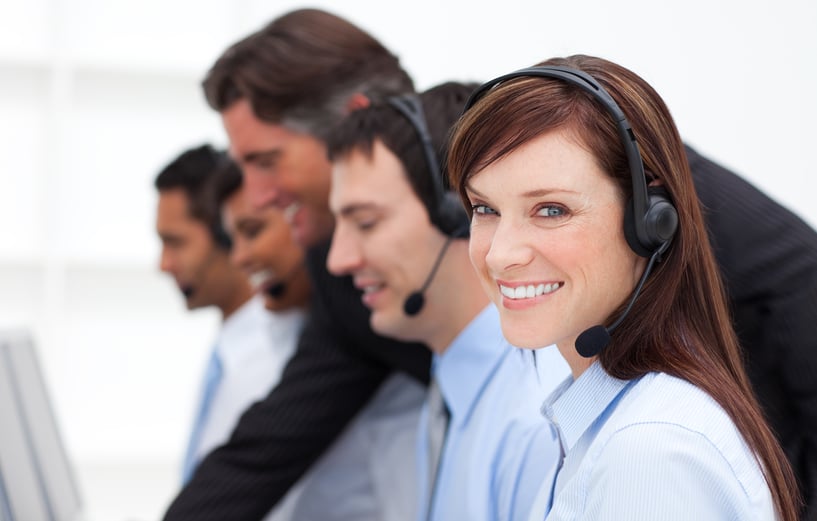 Outsourcing business operations to a third-party provider comes with numerous benefits ranging from reduced costs, access to specialized workforce, and the freedom to scale up or scale down operations as required. The story is not much different when it comes to outsourcing IT help desk support. It enables businesses to focus on mission-critical projects and revenue-generating programs while eliminating daily disruptions and technological issues.
However, there are certain key challenges around identifying and effectively engaging with the right outsourcing partner. The ability to anticipate and manage these challenges determines if an organization can be successful in outsourcing their IT help desk support.
As a managed IT services provider, Calance manages outsourced operations for businesses across industries ranging from small and mid-sized firms to large organizations. Over the years, our teams have examined the pattern of challenges faced by companies while outsourcing their IT helpdesk and advised them on how to resolve these effectively. Based on our in-depth experience, we have developed a list of the four most common challenges encountered when outsourcing IT helpdesk and how to avoid or overcome them.
Here are the challenges:
1. Managing Service Quality
The biggest challenge with an outsourced IT helpdesk is a weak SLA. If the agreement doesn't guarantee well-defined and mutually agreed upon SLOs, it can be difficult to ascertain a standard level of service quality from your outsourcing partner. In the absence of clear objectives, it is also difficult to hold the outsourced service provider accountable for the expected level of service that meets your requirements. In most cases, businesses can get locked into expensive long-term contracts for an IT helpdesk that does little to offer the required quality of support.
How to overcome this: A well-crafted SLA with clearly stated, mutually agreeable service level objectives is the key to overcoming this challenge. The SLA must account for your organization's needs while recognizing scale-up and scale-down scenarios that can be serviced by the outsourced IT helpdesk.
Organizations should also carefully consider the service costs before entering a contract. Instead of a standardized plan, working with the service provider to arrive at customized and competitive pricing is critical. This is especially important for cost control and budget management while outsourcing.
Here's a seven-point checklist to keep in mind while configuring SLAs for outsourced IT helpdesk support:
Arrive at a custom pricing model
Agree upon a required first call resolution rate
Decide the required response time
Fix the call abandonment rates acceptable to your organization
Specify the call wait times that are acceptable to your organization
Specify support coverage that is expected
Specify the escalation levels for different types of support scenarios
2. Slow Turn-Around-Times
Effective IT support from an outsourced team depends on how quickly they are able to adapt to your systems and processes, and understand them well enough to start solving your team's issues and queries. The key challenge here is onboarding the outsourced team quickly and efficiently, so they can take over support operations seamlessly.
How to overcome this: There are two stakeholders involved in this scenario - your internal team managing the onboarding, and the outsourced team that is getting onboarded. Both the teams are equally accountable to ensure a smooth transition.
At your end, your internal teams need to be ready with appropriate documentation to help accelerate the knowledge transfer and onboarding process. It is also important to have clarity on which systems and application support you want to hand over to the outsourced team, how soon you want them to be able to take over, and how seamless you want the shift to be. Keeping these elements in mind, the onboarding team can plan the transition process in an appropriate manner.
You must also be able to gauge the readiness on part of the outsourced service provider. Look for indicators that reflect their preparedness, expertise, and responsiveness. These include:
Having a standard transition template that they can customize to your needs, and guide you through the transition process
Sharing an agreed-upon onboarding duration and turn-around time to take over support operations
Quickly identifying and making available the resources that they plan to engage for your account, so that you can start onboarding them onto your environment and requirements
Clarifying whether you will receive dedicated or shared resources, right from the start
If you know you have a high volume of requests that need quick resolution; and system availability and uptime are critical to your business, it is essential for you to ensure that your outsourcing partner is capable of quickly adapting to your requirements.
3. Effective Help Desk Vendor Assessment
Another big challenge when choosing the right IT help desk support provider is evaluating their performance. While there are aspects that cannot be evaluated before getting into a partnership, there are some key indicators that can help you spot the right outsourcing partner.
What is their key focus during the sales conversation? If an outsourcing partner is talking mostly about call volumes and pricing, without taking the time to understand your requirements, it's best to be on your guard. More often than not, such providers prefer to work with a set service template with minimal scope for customization, adaptability, or seamless scalability of services. And while that might work for smaller businesses with low support call volumes, it is best avoided for mid-sized and larger organizations.
What is their employee turnover rate? If their employee turnover rate is high, the quality of support you receive will be inconsistent. It will also lead to low client intimacy, resulting in a lack of tailored servicing to meet your organization's specific needs.
Do they have a strong shift-left philosophy? A shift-left philosophy refers to a commitment to finding permanent solutions to some of your most common support issues, in order to effectively resolve them for your organization. If the outsourcing partner does not have proper and effective shift left processes in place, error rates will be high, ticket resolution rates will be low regardless of the response rate, and your employees will continue to face issues.
Do they deliver on their SLAs? In addition to the above indicators, if the provider has a history of poor performance that falls short of meeting the SLAs, you can be sure to strike them off your list. This is best gauged by asking for active client references and asking to speak with them independently, to gauge the partner's performance.
These are some of the elements you need to examine before finalizing your outsourced IT support, to avoid the challenge of being locked in with the wrong partner.
4. Change Management
The last few years have reinforced the permanence of change and in the world of information technology, constant shifts and transformations, largely due to technological evolution, are only too common. Keeping your IT help desk support provider up to date on all the ongoing changes in your organization's ecosystem can be an enormous task. If they are unable to adjust to those changes quickly, it might lead to further complications.
This is why it is critical when partnering with an IT support desk provider to know if they have established processes to ensure quick response to changes in your organization. Furthermore, you must ensure that the costs associated with such change management are not too high. Else, this might lead to a higher spend just to ensure support for technology transformations that is essential for your organization's progress.
While there are additional challenges to keep a lookout for when outsourcing IT help desk support, these are the ones you must prioritize on your checklist to ensure you can successfully outsource IT help desk support.
Getting the benefits out of outsourcing can be challenging; which is why it is important to choose an outsourcing partner that you can trust. A reliable outsourcing partner will have enough experience, clients, positive customer feedback to prove their expertise, and a devoted team of professionals who will be there to walk you through each step of the process to overcome common key challenges.
At Calance, with over 25 years of proven track record of providing IT Help desk support to SMEs and large firms, we have developed our systems and processes to excel at responding efficiently and quickly to the ever-evolving requirements of organizations. Our teams are focused on learning about your specific requirements and technical systems, as well as your organizational culture in order to provide customized solutions and expert support.
Wish to know how Calance can support your growing IT help desk needs?