Cloud - Based Disaster Recovery Services
Posted on: January 12, 2017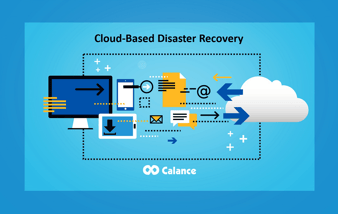 Calance went with market-leader AWS in order to achieve the following improvements in DR services:
Reduce up to 85% in infrastructure CapEx.
Reduce ongoing maintenance cost.
Achieve higher Recovery Point Objective and Recovery Time Objectives.
No dependency on any OEMs hardware.
Storage replication using an enterprise-grade Internet link.
Disaster Recovery is an important aspect of Mainframe (See: Your Ultimate Guide to Mainframe).
In cloud-based DR there are significant cost savings because there is no such thing as fixed fee – it's a pay as you go model. So let's say we are planning to implement our disaster recovery solution in the cloud. We do not need to pay a fixed fee to the cloud provider – we just pay for the storage space that we are using in the cloud. Testing in the cloud is again very easy: we don't have to pay any service fees, our in-house IT team will be able to do it.
Recently, AWS announced their partnership with VMWare (it's been pending for a very long time). IT analysts think that all of these enterprise clients who have been using VMWare as the virtualization layer in their data centers will be able to replicate their virtual servers in AWS. And that is going to bring down costs even more because AWS will natively start supporting VMWare language and the whole process will become very short. We'll also be able to use our existing VMWare license on AWS.
Additionally AWS provides discounts and offer different pricing models – pay as you go, on demand, etc. The availability or the service level agreement they have for each service in their environment is also something that no other provider is offering.
These features, combined with all of AWS' certifications – SOX, etc. – mean that more and more clients actually want to give cloud services a try. When they host their DR piece in AWS they are able to actually try out the cloud platform. Essentially, they'll use it to replicate their workloads and to see if those workloads can be run on the cloud. So the DR recovery piece is a great starting point to head in that direction. To date, Calance has successfully set up DR in AWS for the following applications:
Microsoft Exchange
File Services
SharePoint – Team share
CA USD 12.9
MySQL Databases
Citrix
Calance Website
In spite of some lingering skepticism about cloud-based services among some of our international clientele, competitive pricing is making these services increasingly attractive. If we compare AWS with Microsoft (the 2nd largest platform service provider), for example, AWS is cheaper. In addition, the user interface AWS has helped to develop to bring up instances or start load balances – that user experience is very smooth and user-friendly. Finally, the support and the materials that are readily available on the Internet to set up AWS are extensive. This helps clients, and helps us to support our clients.
Build Your IT Expertise
Stay informed on all the trends and best practices in the IT industry to protect and grow your business.