How to Implement Public Cloud For Your Disaster Recovery Solution
Posted on: January 26, 2017
Many companies have started using public cloud to host non-critical applications and for storage. Some have gone further, moving significant parts of more critical applications to the cloud. Implementing a disaster recovery plan is an important aspect of mainframe. In this article, I will first explain how we implement cloud solutions for our clients, then highlight the factors that determine the best disaster recovery solution for your business.
Calance Cloud Implementation Process
Assess IT Environment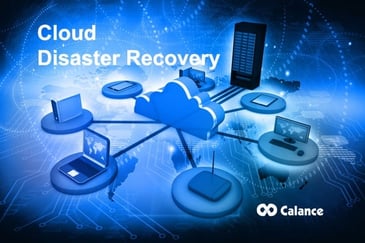 During our typical process at Calance, the first step is to assess the client environment. That assessment involves interviews with the IT staff and the deployment of automated tools into the environment to discover what loads are running in the environment. We then create an application
map, a dependency chart that gives us information on applications tiers and identifies applications that have dependencies on servers.
Create Sever to Application Mapping
Using that chart we are able to come up with server to application mapping. At this point, we engage clients again and discuss how they want to go to the cloud. One approach is the so-called big bang approach in which we put the application on the cloud in one go. We use this approach with applications that are latency sensitive. Then there is a phased approach, which we use when there are applications that can sustain some latency and still function.
Proof of Concept
In the proof of concept phase of planning, we take the application that is least critical to the business and put it on the cloud. We bring it up in the cloud and ask the client to do their application level testing, their performance testing, their user acceptance testing, etc.
Migration
Once the client signs off on the proof of concept, we present a plan to the client on how we will put the rest of the applications in the cloud. Then we start migrating applications.
And that's the best time for our client to start considering a cloud-based disaster recovery solution.
When to opt for Cloud-Based Disaster Recovery
Generally speaking consider opting for a cloud-based DR plan if:
Several of your non-critical or critical applications are already stored in the cloud.
Time is not necessarily of the essence for the services you provide.
When to opt for Traditional Disaster Recovery
Opt for a traditional DR plan if:
Your organization has restrictions on where the data resides (geographic location), latency issues, or custom applications. For our large clients who have enterprise grade clients – like Pepsi, Coca-Cola, or the International Olympic Committee – going in the cloud direction makes no sense. The cloud pricing model is pay as you go, and these big clients have so much data that when we do an ROI analysis or a cost of ownership analysis for hosting their environment in the cloud, it makes no sense.
A cloud disaster recovery service that is based in another continent may not be suitable for a company that has critical applications that demand high response and low latency times.
Now that you have picked the right Disaster Recovery Plan for your business, here are some additional important tips for a successful DR plan.
The 8 Essential Steps to a Successful Disaster Recovery Plan
I can't stress enough that a solid DR plan can only be successful if it has been properly tested and is continuously maintained. Whether your organization follows a traditional or a cloud-based model, preparation and planning should include the following essential steps:
Prioritize applications and segregate mission critical applications from non-critical applications.
Understand inter-dependencies. Create application dependency flowcharts to come up with a migration plan (big-bang approach or phased approach).
Implement a data replication mechanism to align with RPO and RTO.
Secure data in transit and at rest while replicating to the cloud.
Periodic verification and validation of stored data in the cloud.
Perform Proof of Concept with test/development applications.
Formulate a process to periodically test your DR solution.
Define roles and responsibilities for IT staff during DR.